Henry B. Plant Museum
When you're building a railroad to nowhere...how do you make the journey worthwhile?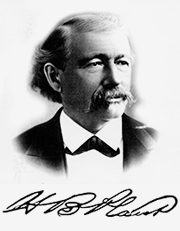 If you're railroad magnate Henry Bradley Plant, in the midst of the sand swamps that would be Tampa, you construct the most astonishingly magnificent hotel of its day, then fill it with treasures from around the world.
With its splendid Moorish architecture, opulent furnishings, and spectacular tropical gardens, Plant's Tampa Bay Hotel attracted a host of celebrated guests, from Teddy Roosevelt to Sarah Bernhardt to Babe Ruth.
A visit to the Henry B. Plant Museum and the authentically restored rooms of the Tampa Bay Hotel will transport you back to a time of indulgent ten-course meals, waltzing on the veranda and alligator hunting by moonlight... The journey is still worthwhile.
The Pottery of Wedgwood
The Pottery of Wedgwood features more than 80 examples of Wedgwood's creations from the 19th century.  These works are on display through December 31, 2014.  The majority of the objects on display are from the Museum's permanent collection from the Walton M. Smith bequest.  Twenty of the pieces are on special loan from the Birmingham Museum of Art, which houses the most comprehensive collection of Wedgwood outside of England.
The centerpiece of this striking exhibit is a grand floor vase purchased by Henry and Margaret Plant for the Tampa Bay Hotel.  This monumental majolica "Swan" vase is one of the largest pieces of majolica ever produced by Wedgwood and is one of eight known to be in existence in the world.  A fine ceramic dish painted by noted French artist Emile Lessore (1805-1876) and a bone china plate from the Theodore Roosevelt White House Service are also on display.  More Information
Sunday, May 4: A lecture by Wedgwood scholar Dr. Anne Forschler-Tarrasch, Birmingham Museum of Art's Marguerite Jones Harbert and John M. Harbert III Curator of European Decorative Arts, will be offered to the public at 2 pm in the Music Room. The lecture is free.
Graciously underwritten by Mr. & Mrs. Joseph T. Lykes, III, Phelps Dunbar, LLP, Regions Bank,  Smith & Associates Real Estate, & Tampa Bay Times