Henry B. Plant Museum
When you're building a railroad to nowhere...how do you make the journey worthwhile?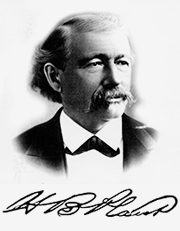 If you're railroad magnate Henry Bradley Plant, in the midst of the sand swamps that would be Tampa, you construct the most astonishingly magnificent hotel of its day, then fill it with treasures from around the world.
With its splendid Moorish architecture, opulent furnishings, and spectacular tropical gardens, Plant's Tampa Bay Hotel attracted a host of celebrated guests, from Teddy Roosevelt to Sarah Bernhardt to Babe Ruth.
A visit to the Henry B. Plant Museum and the authentically restored rooms of the Tampa Bay Hotel will transport you back to a time of indulgent ten-course meals, waltzing on the veranda and alligator hunting by moonlight... The journey is still worthwhile.
Picnic in the Park
Roll back the clock a century and join us for an old fashioned picnic on Sunday, March 16th, starting at 10:30 am, in Plant Park. Bring your blanket, pack a picnic basket and invite family and friends to experience the pleasures of a simpler time. You can just relax in the shade, or test your Victorian sporting prowess with challenges of hoops & sticks, horseshoes, badminton, and three-legged races. Victorian games will be offered including dominoes, checkers, jacks or tiddlywinks. We'll have strolling models in vintage clothing, live theater, and entertainment on Center Stage. Blue Bell Ice Cream will provide complimentary ice cream.  
Picnic in the Park is a perfect opportunity to lull in a haven of rest and contentment on the banks of the Hillsborough River.  You may bring your own picnic basket, chairs, blankets and coolers or you may want to rent a table and chairs for eight ($25 and includes a tablecloth and eight chair covers). Email your reservation for tables by March 12 to sshifke@ut.edu.
Hot dogs, popcorn, lemonade and water will also be available for sale.   
Step back in time and encounter what life was like at the former Tampa Bay Hotel with a special $1 admission at the Henry B. Plant Museum.
Underwritten by Publix Super Markets Charities and Raymond James