Henry B. Plant Museum
When you're building a railroad to nowhere...how do you make the journey worthwhile?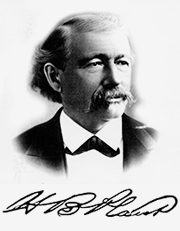 If you're railroad magnate Henry Bradley Plant, in the midst of the sand swamps that would be Tampa, you construct the most astonishingly magnificent hotel of its day, then fill it with treasures from around the world.
With its splendid Moorish architecture, opulent furnishings, and spectacular tropical gardens, Plant's Tampa Bay Hotel attracted a host of celebrated guests, from Teddy Roosevelt to Sarah Bernhardt to Babe Ruth.
A visit to the Henry B. Plant Museum and the authentically restored rooms of the Tampa Bay Hotel will transport you back to a time of indulgent ten-course meals, waltzing on the veranda and alligator hunting by moonlight... The journey is still worthwhile.
Victorian Christmas Stroll
There is no time of the year that delights us more than Christmas. We trim the tree with ornaments that hold memories, hide gift-wrapped packages under the bed and plan a glorious feast with well-worn recipes. These rituals usher in the season of joy.
Experience the warmth and charm of an old-time holiday at Henry B. Plant Museum's 31st annual Victorian Christmas Stroll from December 1st to 23rd, 2013, 10 am to 8 pm daily.
Beneath towering silver minarets, an extravagantly adorned former Tampa Bay Hotel captures the spirit of the season – Victorian style. There are 14 exhibit rooms; each dazzling with trimmed trees uniquely designed in 19th century themes and antique holiday accessories. While strolling down the Grand Hallway, your spirits will soar as you become immersed in carolers singing, Charles Dickens, much loved toys and wrapped gifts, Christmas stockings and Old Saint Nick.