Henry B. Plant Museum
When you're building a railroad to nowhere...how do you make the journey worthwhile?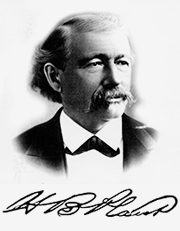 If you're railroad magnate Henry Bradley Plant, in the midst of the sand swamps that would be Tampa, you construct the most astonishingly magnificent hotel of its day, then fill it with treasures from around the world.
With its splendid Moorish architecture, opulent furnishings, and spectacular tropical gardens, Plant's Tampa Bay Hotel attracted a host of celebrated guests, from Teddy Roosevelt to Sarah Bernhardt to Babe Ruth.
A visit to the Henry B. Plant Museum and the authentically restored rooms of the Tampa Bay Hotel will transport you back to a time of indulgent ten-course meals, waltzing on the veranda and alligator hunting by moonlight... The journey is still worthwhile.
Gasparilla: A Tampa Tradition
Enjoy the rich history of Gasparilla, Tampa's oldest and most fun-loving community festival. Gasparilla: A Tampa Tradition explores Tampa's premier party, attended by a motley crew of the famous and infamous, the beautiful people and bad dudes. Find out who they were as we highlight pirate booty and things of beauty during the city's only exhibit of Krewe of Gasparilla memorabilia-coronation robes, ball invitations, programs, crowns and costumes as well as vintage photographs of the invasion, parade floats, pirates and royal courts.  Tampa's visitors and local residents will enjoy viewing a wide variety of early memorabilia and original gowns worn by former Gasparilla royalty. Of particular interest is a 1950's princess gown designed by Anne Lowe an African American fashion designer from Tampa, famous for her one-of-a-kind Gasparilla dresses. She later gained fame when she designed and made Jacqueline Bouvier Kennedy's wedding gown and bridesmaids dresses.
Film footage from the 1920's titled "Memories of Gasparilla Festivals" will be shown continuously. This footage is from the private collection of the Howell family and reveals pirate capers and images of early parades. It is narrated by John Boushall, III; H.L. Culbreath, Jr.; L.G. "Ted" Delavergne, Jr.; Jerry E. Fogarty; George B. Howell, III; Fred R. Martin, III; Mary Alsbrook Smith and Frances Thomas Toole. Film footage from Joseph V. Reineman describing the life of a pirate on Invasion Day will also be shown continuously.  Over the years, the original Ye Mystic Krewe of Gasparilla has been joined by dozens of new krewes (social clubs), all of which contribute to the general merriment and community pride of the occasion.
Picnic in the Park
Join us for a day of old-fashioned fun and games on Sunday, March 8th. The festivities start at 10:30 am and continue through mid-afternoon. Enjoy music and live theater at center stage, or challenge your friends and family to Victorian field games throughout Plant Park. We have all the equipment you need for badminton, hoops & sticks, or croquet. If you find yourself worn out, sit down for a game of jacks, tiddlywinks or dominoes. As you peruse your gaming options, be sure to meet some new friends with the Animal Ambassadors from Lowry Park Zoo and the Humane Society of Tampa Bay.
A picnic would not be complete without food! Feel free to bring your own basket or enjoy hot dogs, popcorn and drinks available for purchase. Blue Bell Creameries will be serving complimentary ice cream.
Visit center stage to hear talented performers all day long. Entertainment kicks off with the Matt Weihmuller Jazz Trio, recently featured at our First Friday celebration. Next, Upstairs/Downstairs Live Theater features Teddy Roosevelt. At noon, Professor Larsen's One-Man Junk Yard Band will show off homemade musical instruments. A talented family band, the Crabgrass Cowboys highlights the 1 pm hour. Finally, the Tampa Community Band wraps up the day led by Conductor Jahn Van De Putte. The Flexible Four Barbershop Quartet will be strolling the park to serenade you as you enjoy the day.
Do not forget to visit the Museum, as it is Dollar Day for all visitors. Expand your knowledge of the 1891 Tampa Bay Hotel during our mini architectural tours of the veranda at 12:15 and 2:15pm. 
Graciously underwritten by: